Christiane Steffens-Dhaussy
---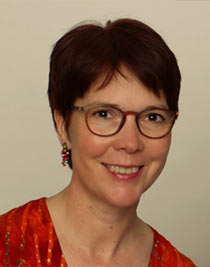 Christiane Steffens - Dhaussy
Certified psychologist, psychological psychotherapist (Ministère de la Santé ; Collège Médical) trainer and supervisor
---
Contact:
> Make an Appointment Online
E-Mail c.steffens@re-sourcen.eu
Moblie phone +352 621 18 25 32


---
Integrative Gestalt-Therapy
Hypnotherapy
Energy Psychology
Traumatherapy
Bereavement counseling
Integrative Vocal Approach
* 1967, married, 1 daughter
---
Professional Training
University diploma in psychology with special focus on medical psychology and public health (certified psychologist), training in body therapy, systemic counselling, as well as hospice work; professional training in hypnotherapy, integrative Gestalt Therapy, integrative vocal approach, trauma therapy, advanced Energy Psychology (Dr. Fred Gallo); certified trainer and supervisor in Energy Psychology.
---
Career
Several years of work in the medical field in Germany: Psychosomatic research, therapeutic work in a rehabilitation clinic, training of health care professionals and hospice volunteers; as well as practice in a psychosocial counselling centre (psychological counselling of individuals and couples).
12 years of professional activity as a clinical psychologist in the Centre Hospitalier in Luxembourg: Palliative care, continuing education, intensive care unit; project development concerning the accompanying of perinatal grief in the hospital setting, as well as the development and implementation of the national remembrance service for dead babies "cérémonie des étoiles"; development of different brochures for families helping them to cope with grief and to overcome crises; trainer for communication and motivation courses, accompanying patients and relatives in grief, teaching strategies for coping with stress and for preventing burnout; team-coaching and supervision.
---
Main activities:
Trainer and supervisor in Energy Psychology (Dr. Fred Gallo) Levels I-IV
Trainer and supervisor for Health Care professionals and professionals working in the psychosocial field (e.g. hospitals, ambulatory care teams, as well as hospice teams, psychosocial counselling centers)
Seminaries on women's biography work, as well as burnout prevention for psychotherapists and pastors
Seminar activities for the DSO (Deutsche Stiftung Organtransplantation – German foundation for organ transplantation) such as accompanying and caring for the relatives of organ donors in the actual hospital situation and subsequent follow-up in specially developed meetings for the families
Lectures and congress contributions on grief counselling/crisis intervention, as well as ethical aspects in Health Care
Author:
« Accompagner la mort et le deuil: Une approche pratique pour le milieu hospitalier. «


> Link to find the book at SATAS (publisher)
---