Dr. Gabriele Stephan-Hembach
---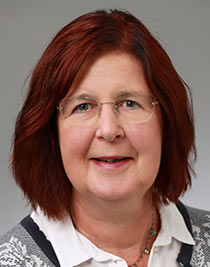 Dr. Gabriele Stephan-Hembach
PhD in natural sciences, certified psychologist, registered psychotherapist (Ministère de la Santé ; Collège médical), trainer and supervisor

---
Contact:
> Online appointment
E-Mail g.stephan@re-sourcen.eu
Moblie phone +352 691 64 64 46

---
Behavior therapy
Hypnotherapy
Psychotherapy of pain
Traumatherapy
Energy Psychology
1958, married, 2 adult daughters
Professional Education
Studies of psychology at the University of Trier (Germany) and Adelphi University (Garden City, New York, U.S.) and medicine at the University-GHS Essen (preliminary medical examination «Physikum»). Certified psychologist and licensed psychotherapist.
Professional training and continuing education: Behavioural therapy; specialized psychotherapy of pain, clinical hypnosis, energy psychotherapy (EDxTM), biofeedback, and eye movement desensitization and reprocessing (EMDR);
Qualified trainer: Relaxation methods (PMR), coping with stress, smoking cessation. Supervisor (pain management psychotherapy), certified trainer in Energy Psychology (Fred Gallo PhD).
---
Career
Clinical activity at the University Hospital Essen (pediatric nephrology) Psychological research on topics of personality assessment and doctoral dissertation on "Anger and Coping with Anger" at the University of Trier.
Since 1995, psychotherapeutic and clinical activities, with a main focus on pain (16 years), psychosomatics, and health promotion
Certified Psychotherapist and authorized since 2016 to practice psychotherapy in Luxembourg (2016.08.010/psycho), Registered at the Collège médical (4805).
---
Main Activities:
Individual psychotherapy (behavioural therapy, hypnosis, EDxTM, EMDR)
Training in EDxTM
Individual supervision of colleagues in psychosocial or educational professions
Talks on different topics : pain, stress, sleep, etc.
Group psychotherapy for coping with pain
Relaxation training (individual or group)
Stress management training
Smoking cessation (individual, group, behavioural therapy, and/or hypnosis)
---